Descripción
Edit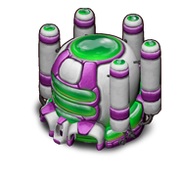 El Silo es un edificio donde usted puede mantener sus minerales. Los minerales se pueden recoger en las minas o por los saqueos a otros jugadores
Usted utiliza los minerales para activar y actualizar las unidades y atacar a otros jugadores fuera de su sistema.
El almacenamiento total máxima es de: 214.260.000 (266.259.840 con el almacenamiento de minas)
Los Silos tienen el almacenamiento equivalente a su homólogo, bancos (cuando tienen en el mismo nivel).
El Silo es uno de los mejores escondites para ocultar Morteros.
Los Silos tiene la misma salud de los bancos cuando tienen el mismo nivel.
Los Silos tienen más salud que la Casa Compacta , así que es uno edificios de los más resistentes en el juego!
Ahora, desde la actualización de juego 0.84.2 silos consiguieron la funcion de recoger todos los minerales en sus planetas a la vez (en un clic).
Ad blocker interference detected!
Wikia is a free-to-use site that makes money from advertising. We have a modified experience for viewers using ad blockers

Wikia is not accessible if you've made further modifications. Remove the custom ad blocker rule(s) and the page will load as expected.