Descripción
Edit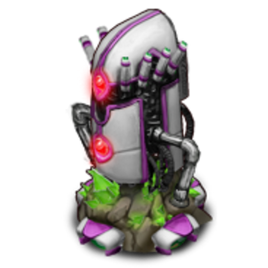 "Las minas son edificios de recursos que producen Minerales, produce minerales, entre mas alto el nivel de estos, mas producción.
Si su capacidad de almacenamiento mineral es completo, entonces usted no será capaz de recoger más Minerals. Usted puede aumentar su capacidad mediante la construcción y mejora de Silos.
Minas Minerales generan con el tiempo. Cuando su almacenamiento interna se llena , dejarán de generar minerales. El almacenamiento interno de las minas aumenta a medida que se actualizan.
Bases Star pueden almacenar 9000 , ni más ni menos , sin importar el nivel .
Minas seguirán generando Minerals cuando se destruye .
Un 10 mina nivel dará hasta 200.000 minerales cuando está completamente destruido si la mina estaba completamente lleno antes del ataque.
Minas toman menos tiempo para actualizar a cada nivel de una casa compacto lo hace en el mismo nivel .
Minas generan menos experiencia y dan menos puntos de guerra que Compact Houses. La destrucción de una mina no puede dar más de 1 punto de la guerra, incluso si el nivel del atacante es inferior a los defensores como los niveles no les importa . Una táctica común usada por los jugadores de alto nivel que atacan a los jugadores de bajo nivel está destruyendo un edificio y poner fin a la batalla. Esto le da un punto de guerra , no importa lo que pase.
Minas de alto nivel tienen un montón de salud. Debido a esto, los jugadores a menudo ellos se alinean fuera de su base con minas y casas compactas, como para mantener las unidades sin destino ( sin preferencia para atacar las defensas ni nada ) ocupada con ellos.
Ad blocker interference detected!
Wikia is a free-to-use site that makes money from advertising. We have a modified experience for viewers using ad blockers

Wikia is not accessible if you've made further modifications. Remove the custom ad blocker rule(s) and the page will load as expected.