Descripción
Edit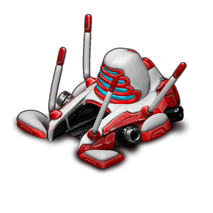 La mayoría de los Estarlings tienen la oportunidad de estar en uno de los tanques producidos aquí! Llevan a cabo la carrera secreta en su tiempo libre.
La fábrica se utiliza para hacer que los vehículos , que son las unidades de tierra mas fuertes quienes generalmente tienden a formar la pieza de protección de la mayoría de los ejércitos , especialmente el Tanque Escarabajo y el Coloso .
Las unidades en el orden de formación de la fábrica no se destruyen cuando se destruye la fábrica, ahorrando así el dinero implicado en la creación de nuevas tropas dentro de la fábrica.
Haga lo posible por defender estos tipos de edificaciones, ya que dan a la mayoría de puntos de guerra.
El Tanque de escarabajo es el tanque más utilizado en el ejército , ya que es bastante barato , tiene bastante tiempo de construcción razonablemente corto y mucha salud, incluso cuando se activa el Coloso , considerando que es utilizado todavía a menudo como sustituto.
Tambien el S-trike es una de las unidades mas poderosas (despues del Coloso) por su buena salud cadencia de tiro y sobre todo su velocidad (cuando esta mejorado).
Ad blocker interference detected!
Wikia is a free-to-use site that makes money from advertising. We have a modified experience for viewers using ad blockers

Wikia is not accessible if you've made further modifications. Remove the custom ad blocker rule(s) and the page will load as expected.